Easter Holidays
---
April 26th – April 29th – Classes will not be held!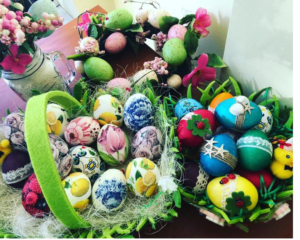 Easter, also called Pascha (Greek, Latin) or Resurrection Sunday, is a festival and holiday celebrating the resurrection of Jesus from the dead, described in the New Testament as having occurred on the third day of his burial after his crucifixion by the Romans at Calvary c. 30 AD.
Easter traditions in Bulgaria are a derivative of the Eastern Orthodox Church rituals. As the Bulgarian name implies "Velikden" (Great Day), Easter is one of the most significant holidays in the Bulgarian calendar and starting with Palm Sunday, the holy week leads up to the Great Day. In tune with worldwide Orthodox traditions, bright red colored eggs and Easter breads known as "kozunak" are the prominent symbols of Easter in Bulgaria.
At midnight on the Saturday before Easter Sunday, people gather at the church with red painted eggs and bread. The priest proclaims three times "Christos voskrese" (Christ has risen) and the congregation replies "Vo istina voskrese" (Indeed he has risen). After a special sequence of services, the clergy blesses the breads and eggs brought by the people.
The Bulgarian good luck crack is a unique Easter tradition in Bulgaria. Eggs are cracked after the midnight service and over the next few days. People take turns in tapping their eggs against the eggs of others, and the person who ends up with the last unbroken egg is believed to have a year of good luck.