Prof. Valchev is the new Rector of TU-Varna with a mandate of 2019-2023
---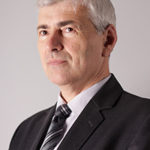 On June 24, 2019 the General Assembly of Technical University of Varna elected  Prof. Eng. Ventsislav Valchev, PhD as a Rector of the Higher Education Institution with a mandate of 2019-2023. The new Rector won the elections with 110 votes in the first ballot, which is 73% of the voters. The other two candidates received as follows: 30 votes for Assoc. Prof. Anton Georgiev, 8 votes for Assoc. Prof. Bojidar Dyakov and 3 of the bulletins were invalid.
At the beginning of the meeting the General Assembly chose a new leadership of the General Assembly, also with a mandate of 2019-2023. For a Chairperson (with 106 votes) was elected Assoc. Prof. Eng. Sergey Belchev and for Deputy Chair – Assoc. Prof. Nasko Atanasov (with 142 votes). After the election of a Rector, the General Assembly proceeded with an election of the other Collegiate Governing Bodies – the Academic Council and the Control Council with a mandate of 2019-2023.
The meeting of the General Assembly was convened and approved legally and in full compliance with the internal rules of the University. The work of the meeting passed according to the pre-established agenda when the necessary quorum was established. The elections for a Rector and a Direction of the General Assembly were carried out by secret ballot, according to all the requirements.