Prof. Valchev is the new Rector of TU-Varna
---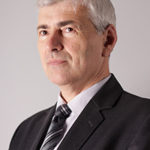 The General Assembly of Technical University of Varna elected Prof. Eng. Ventsislav Valchev, PhD as a Rector of the Higher Education Institution with a mandate of 2015-2019. The new Rector won the elections by 95 votes after a second vote in a meeting held on March 22. In the ballot, 52 representatives voted for the second candidate – Prof. Dragomir Plamenov, PhD.
At the beginning of the meeting, the collective body elected a new leadership in the General Assembly of TU-Varna, also with a mandate 2015-2019. As a Chairperson (with 88 votes) was elected Assoc. Prof. Eng. Yoncho Kamenov, PhD and as a Deputy Chair – Assoc. Prof. Eng. Nikola Nikolov, PhD (with 143 of the representative's votes).
The meeting of the General Assembly was convened and approved legally and in full compliance with the internal rules of the university. The work of the meeting passed in the pre-established agenda when the necessary quorum was established. The elections for a Rector and a Direction of the General Assembly were carried out by secret ballot, according to all the requirements.