Rector's Order in connection with declared a State of Emergency
---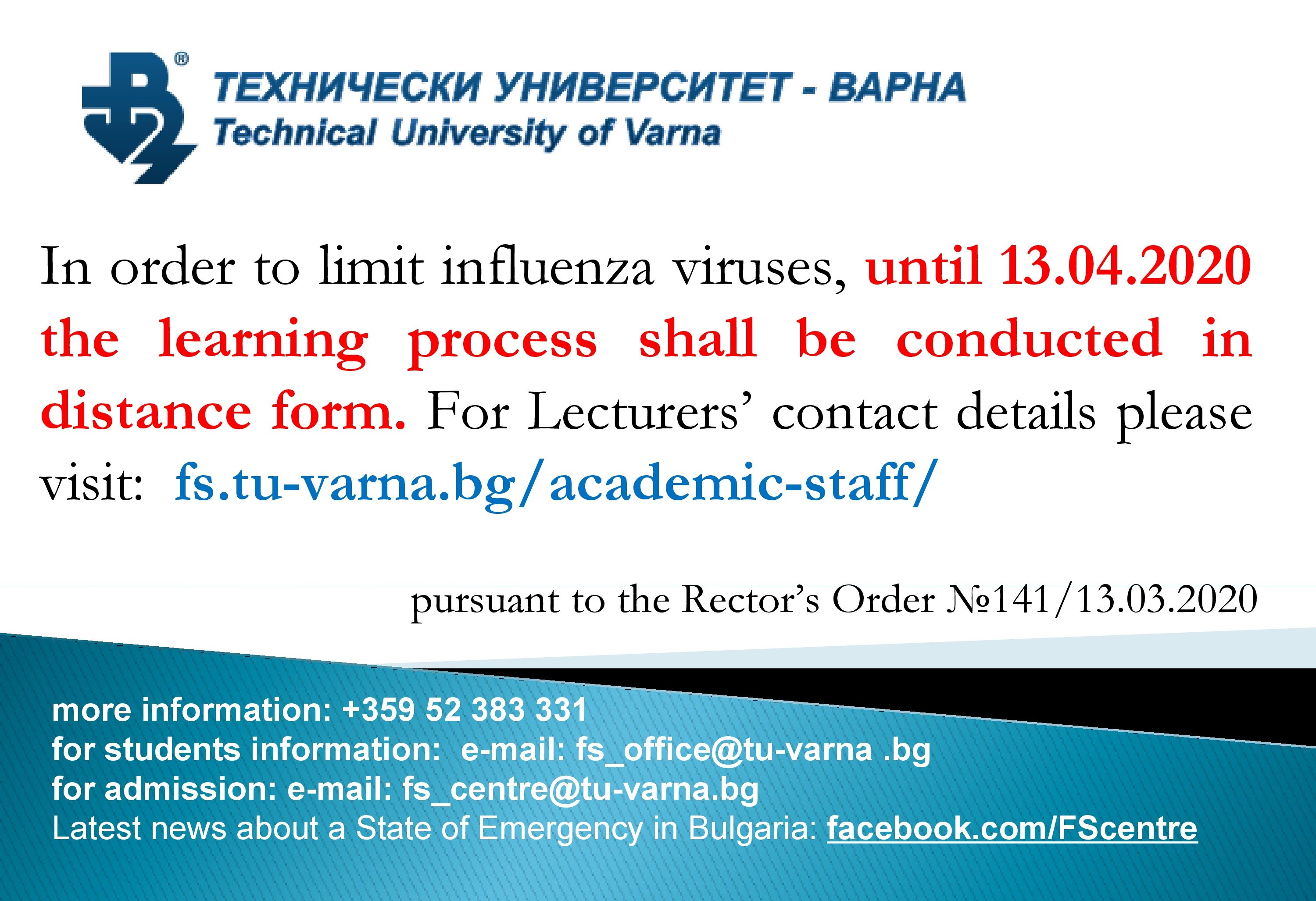 TECHNICAL  UNIVERSITY  OF  VARNA
O R D E R
No. 141/ 13.03.2020
In connection with declared a State of Emergency in Bulgaria from 13.03.2020 to 13.04.2020  and in addition to Order No.139 / 12.03.2020
I HEREBY GIVE MY INSTRUCTIONS TO BE DONE AS FOLLOWS:
1. The attendance lessons, semester and state exams, as well as defense of a graduation and thesis papers for all students at Technical University of Varna (TU-Varna) for the period from 13.03.2020 to 13.04.2020 shall be canceled. The educational and training process during this period should be implemented electronically.
2. All planned courses on the territory of TU-Varna for the period from 13.03.2020 to 13.04.2020 shall be canceled.
3. The specified period does not cancel all work duties execution, neither the academic, administrative staff and technical personnel presence at the TU-Varna.
4. The Candidate student documents for the new academic year 2020/2021 shall be also accepted electronically.
5. Exceptionally, when it is urgent or impossible to hold departmental, faculty and academic meetings in the appropriate way, then the meetings should be held behind closed doors and subject to mandatory personal precautions (protective masks).
6. The planned defenses of dissertation papers and the scientific committee meetings for occupying an academic position should be held, if possible, by conference call and, exceptionally, in private, behind closed doors and mandatory personal precautions.
7. Access to any persons outside on the territory of TU-Varna shall be restricted.
8. All students, lecturers and administrative staff who travel abroad or return shall notify the management of TU-Varna electronically, as well as they should observe the 14-day quarantine period.
9. It should be taken all necessary measures for employees' disinfection and hygiene protection at TU-Varna.
All Deputy Rectors, Deans, College Directors, Director of DLECES (DEPOS), Head of Departments should be familiarized with this Order, as well as to be informed all the academic staff, officers and students at TU-Varna.
Prof. Dr. Eng. Ventsislav Valchev
Rector of TU-Varna